I had the chance to join the wonderful beyond tellerrand Berlin 2019 conference last week. So here is a little blog post about it.
The venue of beyond tellerrand berlin 2019
The beyond tellerrand berlin 2019 had to look for a new venue since the Admiralspalast closed its doors. The new venue Festsaal Kreuzberg was a very good choice for the conference. Perfect size, stylish, even with a great beer garden. Berlin Kreuzberg is of couse a very special quater of Berlin… you have to like it. But that would be a different blog post! 😉 I liked the venue lots. The only terrible thing were the old wooden chairs. My back ached terrible. But maybe I'm just getting old.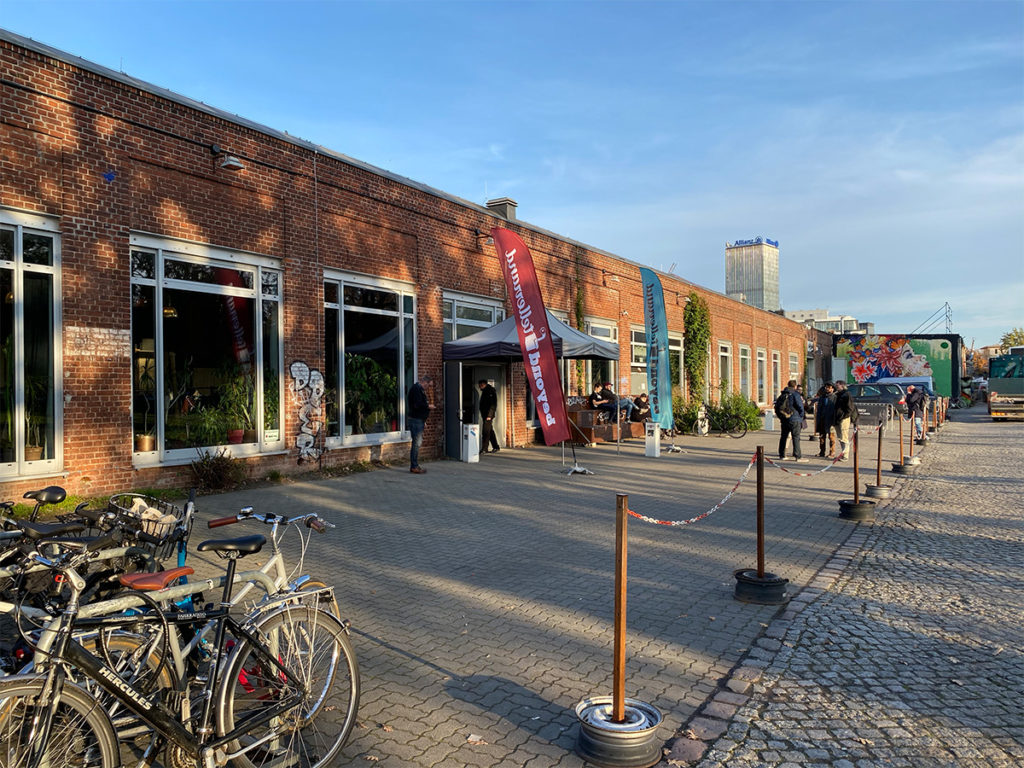 My highlights of beyond tellerrand berlin 2019
It's always not easy to pick up the conference hightlights of the beyond tellerrand berlin 2019. All of the talks were brilliant, but of couse there are always some talks which I liked most. Here are my highlights (I linked to the videos of the talk if available):
Jeremy Keith – The Layers Of The Web
Cassie Evans – Interactive web animaiton with SVG
Wilfrid Wood – Headbuilder
Sharon Steed – Engaging Empathy
Jason Pamental – Dynamic Typography with Variable Fonts
Seb Lester – Peace, Hellfire & Unicorns
I also liked Aaron Gustafson – Conversional Semantics … and it seems I was the only person in the venue who got the Spinal Tap joke which clearly shows my age!! ?? Want to "learn" more about Spinal Tap? Read along and watch the film. ?
Conclusion
As always the beyond tellerrand berlin 2019 was a brilliant conference. And as always it was beyond the tellerrand (love this english-german mixed phrase). The organisation was great, it was a great mix of speakers, the venue was great, the goodie bag was nice (looove the mug).
In the last years the talks shifted more and more away from tech talks to more… well… talks who are really beyond the tellerrand. I really like these talks. But maybe there should be a bit more tech talks again. So 50/50 would be perfect for me. I always miss some talks which are a bit more related to my (maybe boring) work life. I know it is maybe not too easy to do a great talk about e.g. SEO, project management with a ux/dev team or this terrible but important things. I would love to hear more about UX and UI design. Just a bit more talks I can use directly in my work life. But that sounds too harsh and it is critisism on a very high level. I loved all the talks and I am glad is not a simple and boring tech conference only for nerdy hackers.
❤️ ? Thank you Marc Thiele for offering such amazing conferences to us all. Can't wait to join another beyond tellerrand in 2020. Maybe I will attend as an volunteer again some day as I did in 2018. Everytime I walked by this t-shirt booth I thought "hey… that's MY place.. who wants to buy a shirt?" Oh… and in a way I sold one shirt to my co-worker… 😀